AK: We've spent the day on another nature trail.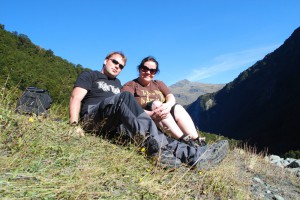 We got to Wanaka yesterday, and decided to find a place to stay and explore the lovely little seaside town. It has a great location and is a friendly and beautiful place. We had dinner at The Wanaka Ale House (they even give you a recommendation on which beer that goes well with your food, Andreas liked that one), went for a walk in town and decided to try the Rob Roy Track the next day. So we got up, checked out of "Wanaka Bakpaka" and set of on another adventure.
About half an hour into the wilderness we discovered that we had almost no petrol, so we turned around and filled up the little Nissan. Another half an hour later we set off again and this time we were ready, we had petrol, water bottles, breakfast and lunch and the backpack was packed up. After driving for about an hour we got to the Raspberry Parking, left our brave, little Nissan and started off on foot.
The trail was clearly marked, impossible to get lost, and we were so lucky with the weather (again). The sun was shining and we had a nice temperature all the way to the top. It's hard to explain the great landscape and all the beautiful things we saw, so I think I'll let the pictures speak for us.
Our goal was the Glacier View Point and the trip took us about four hours (not including the drive). Highly recommendable to anyone who loves a walk in nature.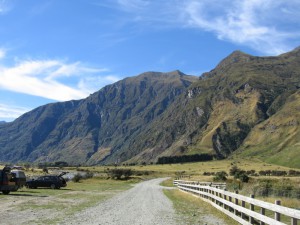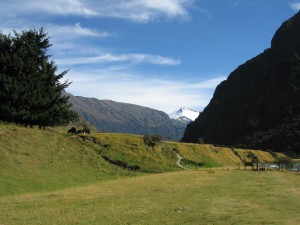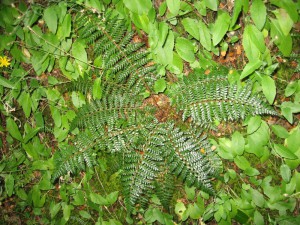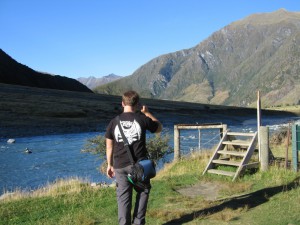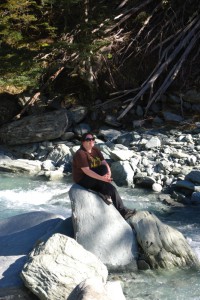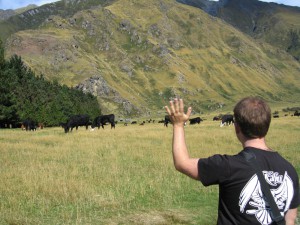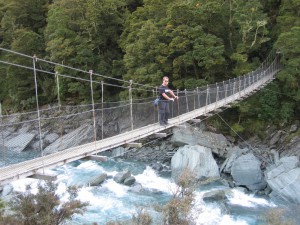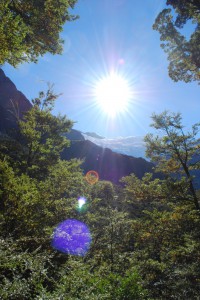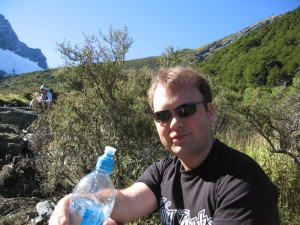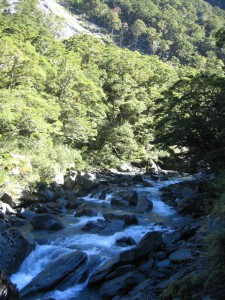 *
NORWEGIAN
AK: Vi har tatt oss enda en tur i naturen. Vi ankom Wanaka i går og bestemte oss for å finne et sted å bo og se oss litt om på dette flotte, lille kyststedet. Dete ligger kjempeflott til og er et vakkert og vennlig sted. Vi spiste middag på The Wanaka Ale House (de har til og med øl-anbefalinger til maten, Andreas likte seg godt), før vi gikk en "sightseeing tur". I løpet av turen bestemte vi oss for å prøve Rob Roy Track neste dag. Så dagen etter sto vi opp, sjekket ut fra "Wanaka Bakpaka" og dro avgårde mot vårt nye eventyr. Cirka en halvtime inn i villmarken oppdaget vi at bensintanken nesten var tom, så vi snudde, dro tilbake til Wanaka og fylte opp "Sølvpilen" (Nissanen vår). Etter cirka enda en halvtime dro vi avgårde igjen og denne gangen var vi beredt. Vi hadde bensin, vannflasker, frokost og lunsj og sekken var pakken igjen. Etter å ha kjørt en times tid kom vi frem til Raspberry Parking, her forlot vi vår tapre, lille Nissan og satte avgårde til fots. Løypen var godt markert, det var umulig å gå seg vill og vi hadde nok en gang superflaks med været. Solen skinte og vi hadde god temperatur hele veien opp. Det er vanskelig å beskrive det flotte landskapet og alle de vakre tingene vi så på turen så jeg tror jeg skal la bildene snakke for oss.
Målet vårt var Glacier View Point og turen tok oss rundt fire timer (ikke inkludert kjøreturen). Absolutt å anbefale for deg som liker naturen.